Detailed Voting Results
Here are the detailed results for the 2012 /v/GAs. In order to determine the winner for each category, we had to split the votes into several filter groups, depending on where the person who voted came from. We include some of the groups here for your amusement.
If all you want is the official results for each category, you can get those on the winners page. If you want to see the results in even more detail, you can view the pairwise voting results.
Currently viewing the top 5 nominees for each category only.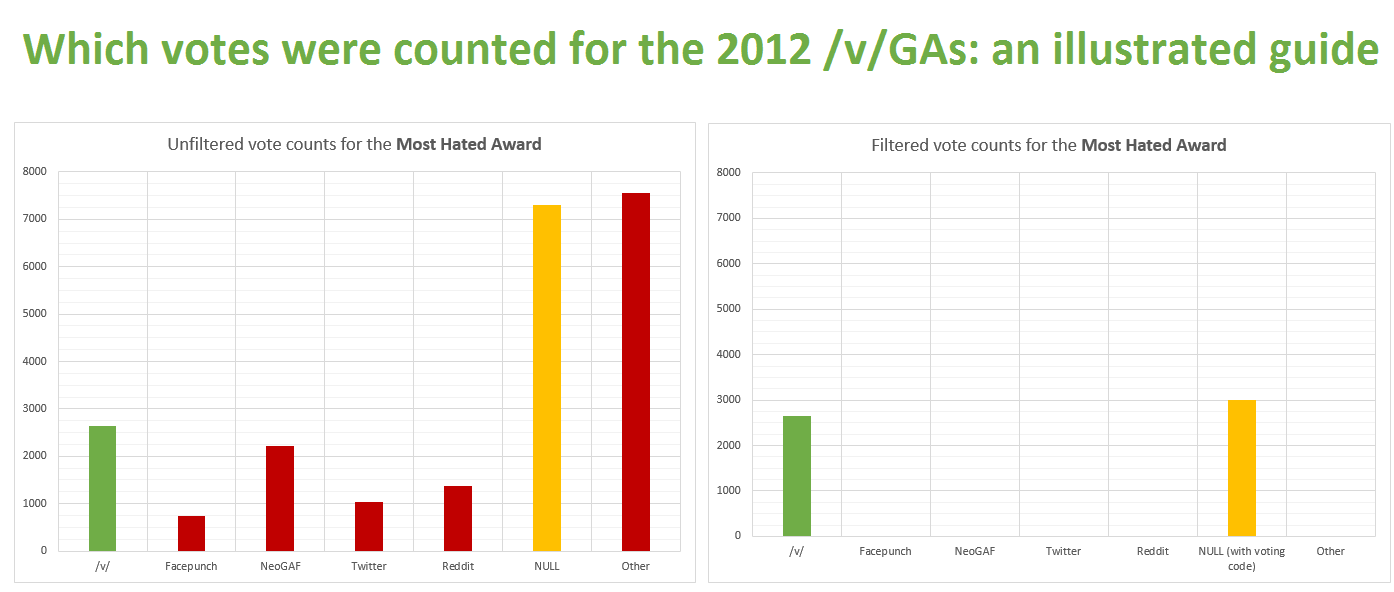 Most Hated Award for most hated game of the year
No filtering

22,879 votes

The War Z

Mass Effect 3
Diablo III
Call of Duty: Black Ops II
Kinect Star Wars

All of /v/

2,645 votes

Mass Effect 3

The War Z
Diablo III
Call of Duty: Black Ops II
Fez

/v/ with voting code

884 votes

Mass Effect 3

The War Z
Diablo III
Fez
Call of Duty: Black Ops II

/v/ (no voting code)

1,761 votes

Mass Effect 3

The War Z
Diablo III
Call of Duty: Black Ops II
Kinect Star Wars

All of /v/ + all of NULL

12,957 votes

Mass Effect 3

The War Z
Diablo III
Call of Duty: Black Ops II
Kinect Star Wars

All of /v/ + NULL with code

5,645 votes

Mass Effect 3

The War Z
Diablo III
Call of Duty: Black Ops II
Fez

NULL with voting code

3,000 votes

Mass Effect 3

The War Z
Diablo III
Call of Duty: Black Ops II
Fez

NULL (no voting code)

7,312 votes

The War Z

Mass Effect 3
Diablo III
Call of Duty: Black Ops II
Kinect Star Wars

Facepunch

739 votes

The War Z

Mass Effect 3
Fez
Call of Duty: Black Ops II
Kinect Star Wars

NeoGAF

2,212 votes

The War Z

Mass Effect 3
Diablo III
Resident Evil 6
Kinect Star Wars

Twitter

1,035 votes

The War Z

Call of Duty: Black Ops II
Kinect Star Wars
Medal of Honor: Warfighter
Resident Evil 6

Reddit

1,383 votes

The War Z

Diablo III
Mass Effect 3
Call of Duty: Black Ops II
Kinect Star Wars
Least Worst Award for least worst game of the year
No filtering

19,576 votes

The Walking Dead

Hotline Miami
XCOM: Enemy Unknown
Faster Than Light
Sleeping Dogs

All of /v/

2,447 votes

The Walking Dead

Hotline Miami
Sleeping Dogs
Katawa Shoujo
XCOM: Enemy Unknown

/v/ with voting code

812 votes

The Walking Dead

Hotline Miami
Katawa Shoujo
XCOM: Enemy Unknown
Sleeping Dogs

/v/ (no voting code)

1,635 votes

The Walking Dead

Hotline Miami
Sleeping Dogs
XCOM: Enemy Unknown
Faster Than Light

All of /v/ + all of NULL

11,555 votes

The Walking Dead

Hotline Miami
Sleeping Dogs
Katawa Shoujo
XCOM: Enemy Unknown

All of /v/ + NULL with code

5,168 votes

The Walking Dead

Hotline Miami
Sleeping Dogs
Katawa Shoujo
XCOM: Enemy Unknown

NULL with voting code

2,721 votes

The Walking Dead

Hotline Miami
Sleeping Dogs
Katawa Shoujo
XCOM: Enemy Unknown

NULL (no voting code)

6,387 votes

The Walking Dead

Hotline Miami
XCOM: Enemy Unknown
Faster Than Light
Sleeping Dogs

Facepunch

607 votes

The Walking Dead

Dishonored
Max Payne 3
Hotline Miami
XCOM: Enemy Unknown

NeoGAF

1,908 votes

The Walking Dead

Journey
XCOM: Enemy Unknown
Hotline Miami
Sleeping Dogs

Twitter

743 votes

The Walking Dead

Hotline Miami
Faster Than Light
Dishonored
Journey

Reddit

959 votes

The Walking Dead

Dishonored
Faster Than Light
XCOM: Enemy Unknown
Journey
Press X To Win The Award for worst gameplay
No filtering

17,854 votes

Diablo III

Call of Duty: Black Ops II
Resident Evil 6
Mass Effect 3
Medal of Honor: Warfighter

All of /v/

2,193 votes

Katawa Shoujo

Mass Effect 3
Diablo III
Resident Evil 6
Call of Duty: Black Ops II

/v/ with voting code

770 votes

Katawa Shoujo

Diablo III
Mass Effect 3
Resident Evil 6
Call of Duty: Black Ops II

/v/ (no voting code)

1,423 votes

Mass Effect 3

Katawa Shoujo
Diablo III
Call of Duty: Black Ops II
Resident Evil 6

All of /v/ + all of NULL

10,532 votes

Diablo III

Call of Duty: Black Ops II
Katawa Shoujo
Mass Effect 3
Resident Evil 6

All of /v/ + NULL with code

4,745 votes

Katawa Shoujo

Mass Effect 3
Diablo III
Call of Duty: Black Ops II
Resident Evil 6

NULL with voting code

2,552 votes

Katawa Shoujo

Mass Effect 3
Diablo III
Call of Duty: Black Ops II
Resident Evil 6

NULL (no voting code)

5,787 votes

Diablo III

Call of Duty: Black Ops II
Mass Effect 3
Resident Evil 6
Katawa Shoujo

Facepunch

571 votes

Medal of Honor: Warfighter

Call of Duty: Black Ops II
Katawa Shoujo
Diablo III
Resident Evil 6

NeoGAF

1,679 votes

Resident Evil 6

Diablo III
The Walking Dead
Call of Duty: Black Ops II
Medal of Honor: Warfighter

Twitter

628 votes

Call of Duty: Black Ops II

Medal of Honor: Warfighter
Resident Evil 6
Diablo III
Assassin's Creed III

Reddit

904 votes

Medal of Honor: Warfighter

Diablo III
Call of Duty: Black Ops II
Resident Evil 6
Assassin's Creed III
BUZZWORD Award for best gameplay
No filtering

17,463 votes

Hotline Miami

Dishonored
XCOM: Enemy Unknown
Chivalry: Medieval Warfare
FTL: Faster Than Light

All of /v/

2,118 votes

Hotline Miami

Chivalry: Medieval Warfare
XCOM: Enemy Unknown
Sleeping Dogs
Dishonored

/v/ with voting code

734 votes

Hotline Miami

Chivalry: Medieval Warfare
XCOM: Enemy Unknown
Sleeping Dogs
Dishonored

/v/ (no voting code)

1,384 votes

Hotline Miami

Chivalry: Medieval Warfare
Sleeping Dogs
XCOM: Enemy Unknown
Dishonored

All of /v/ + all of NULL

10,216 votes

Hotline Miami

Chivalry: Medieval Warfare
XCOM: Enemy Unknown
Sleeping Dogs
Dishonored

All of /v/ + NULL with code

4,599 votes

Hotline Miami

Chivalry: Medieval Warfare
XCOM: Enemy Unknown
Sleeping Dogs
Dishonored

NULL with voting code

2,481 votes

Hotline Miami

Chivalry: Medieval Warfare
XCOM: Enemy Unknown
Sleeping Dogs
Dishonored

NULL (no voting code)

5,617 votes

Hotline Miami

Chivalry: Medieval Warfare
Dishonored
XCOM: Enemy Unknown
FTL: Faster Than Light

Facepunch

565 votes

Dishonored

Hotline Miami
Chivalry: Medieval Warfare
Borderlands 2
Max Payne 3

NeoGAF

1,675 votes

Hotline Miami

XCOM: Enemy Unknown
Dishonored
Sleeping Dogs
FTL: Faster Than Light

Twitter

655 votes

Hotline Miami

Dishonored
FTL: Faster Than Light
Borderlands 2
XCOM: Enemy Unknown

Reddit

867 votes

Dishonored

Hotline Miami
FTL: Faster Than Light
XCOM: Enemy Unknown
Borderlands 2
Hamburger Helper Award for most atrocious writing
No filtering

17,048 votes

Mass Effect 3

Diablo III
Call of Duty: Black Ops II
Resident Evil 6
Medal of Honor: Warfighter

All of /v/

2,158 votes

Mass Effect 3

Diablo III
Call of Duty: Black Ops II
Borderlands 2
Resident Evil 6

/v/ with voting code

757 votes

Mass Effect 3

Diablo III
Borderlands 2
Call of Duty: Black Ops II
Resident Evil 6

/v/ (no voting code)

1,401 votes

Mass Effect 3

Diablo III
Call of Duty: Black Ops II
Resident Evil 6
Borderlands 2

All of /v/ + all of NULL

10,205 votes

Mass Effect 3

Diablo III
Call of Duty: Black Ops II
Resident Evil 6
Medal of Honor: Warfighter

All of /v/ + NULL with code

4,618 votes

Mass Effect 3

Diablo III
Call of Duty: Black Ops II
Borderlands 2
Resident Evil 6

NULL with voting code

2,460 votes

Mass Effect 3

Diablo III
Call of Duty: Black Ops II
Borderlands 2
Resident Evil 6

NULL (no voting code)

5,587 votes

Mass Effect 3

Diablo III
Call of Duty: Black Ops II
Resident Evil 6
Medal of Honor: Warfighter

Facepunch

539 votes

Mass Effect 3

Call of Duty: Black Ops II
Medal of Honor: Warfighter
Resident Evil 6
Diablo III

NeoGAF

1,622 votes

Mass Effect 3

Resident Evil 6
Diablo III
Call of Duty: Black Ops II
Assassin's Creed III

Twitter

562 votes

Call of Duty: Black Ops II

Mass Effect 3
Medal of Honor: Warfighter
Resident Evil 6
Diablo III

Reddit

821 votes

Diablo III

Mass Effect 3
Medal of Honor: Warfighter
Call of Duty: Black Ops II
Resident Evil 6
Nature Of A Man Award for best writing
No filtering

16,648 votes

The Walking Dead

Spec Ops: The Line
Katawa Shoujo
Dishonored
Sleeping Dogs

All of /v/

2,050 votes

The Walking Dead

Katawa Shoujo
Spec Ops: The Line
Zero Escape: Virtue's Last Reward
Hotline Miami

/v/ with voting code

720 votes

The Walking Dead

Katawa Shoujo
Spec Ops: The Line
Hotline Miami
Zero Escape: Virtue's Last Reward

/v/ (no voting code)

1,330 votes

The Walking Dead

Katawa Shoujo
Spec Ops: The Line
Sleeping Dogs
Max Payne 3

All of /v/ + all of NULL

9,801 votes

The Walking Dead

Spec Ops: The Line
Katawa Shoujo
Sleeping Dogs
Max Payne 3

All of /v/ + NULL with code

4,418 votes

The Walking Dead

Katawa Shoujo
Spec Ops: The Line
Max Payne 3
Sleeping Dogs

NULL with voting code

2,368 votes

The Walking Dead

Spec Ops: The Line
Katawa Shoujo
Max Payne 3
Sleeping Dogs

NULL (no voting code)

5,383 votes

The Walking Dead

Spec Ops: The Line
Katawa Shoujo
Dishonored
Sleeping Dogs

Facepunch

527 votes

The Walking Dead

Spec Ops: The Line
Max Payne 3
Dishonored
Sleeping Dogs

NeoGAF

1,624 votes

The Walking Dead

Spec Ops: The Line
Zero Escape: Virtue's Last Reward
Sleeping Dogs
Kid Icarus: Uprising

Twitter

598 votes

The Walking Dead

Spec Ops: The Line
Dishonored
Hotline Miami
Borderlands 2

Reddit

792 votes

The Walking Dead

Spec Ops: The Line
Dishonored
Borderlands 2
Hotline Miami
Not So Rehash Award for updating a series nicely
No filtering

16,371 votes

Far Cry 3

Torchlight 2
Borderlands 2
Max Payne 3
Halo 4

All of /v/

2,001 votes

Far Cry 3

Torchlight 2
Max Payne 3
Borderlands 2
Halo 4

/v/ with voting code

696 votes

Far Cry 3

Torchlight 2
Max Payne 3
Borderlands 2
Halo 4

/v/ (no voting code)

1,305 votes

Far Cry 3

Torchlight 2
Max Payne 3
Borderlands 2
Halo 4

All of /v/ + all of NULL

9,643 votes

Far Cry 3

Torchlight 2
Max Payne 3
Borderlands 2
Halo 4

All of /v/ + NULL with code

4,297 votes

Far Cry 3

Torchlight 2
Max Payne 3
Borderlands 2
Halo 4

NULL with voting code

2,296 votes

Far Cry 3

Torchlight 2
Max Payne 3
Borderlands 2
Halo 4

NULL (no voting code)

5,346 votes

Far Cry 3

Torchlight 2
Borderlands 2
Max Payne 3
Halo 4

Facepunch

575 votes

Far Cry 3

Borderlands 2
Max Payne 3
Torchlight 2
Halo 4

NeoGAF

1,512 votes

Far Cry 3

Borderlands 2
Torchlight 2
Max Payne 3
Halo 4

Twitter

611 votes

Far Cry 3

Borderlands 2
Torchlight 2
Max Payne 3
Halo 4

Reddit

839 votes

Far Cry 3

Torchlight 2
Borderlands 2
Max Payne 3
Halo 4
Blunder of the Year setting a new standard for failure
No filtering

18,483 votes

Tortanic F2P

The War Z
Diablo III
Mass Effect 3
Playstation Vita

All of /v/

2,286 votes

Tortanic F2P

The War Z
Mass Effect 3
Diablo III
Playstation Vita

/v/ with voting code

782 votes

Tortanic F2P

The War Z
Mass Effect 3
Diablo III
Playstation Vita

/v/ (no voting code)

1,504 votes

Tortanic F2P

The War Z
Mass Effect 3
Diablo III
Playstation Vita

All of /v/ + all of NULL

10,892 votes

Tortanic F2P

The War Z
Mass Effect 3
Diablo III
Playstation Vita

All of /v/ + NULL with code

4,886 votes

Tortanic F2P

The War Z
Mass Effect 3
Diablo III
Playstation Vita

NULL with voting code

2,600 votes

Tortanic F2P

The War Z
Mass Effect 3
Diablo III
Playstation Vita

NULL (no voting code)

6,006 votes

Tortanic F2P

The War Z
Diablo III
Mass Effect 3
Playstation Vita

Facepunch

606 votes

The War Z

Tortanic F2P
Mass Effect 3
Diablo III
Medal of Honor: Warfighter

NeoGAF

1,780 votes

The War Z

Diablo III
Playstation Vita
Mass Effect 3
Tortanic F2P

Twitter

640 votes

The War Z

Diablo III
Playstation Vita
Medal of Honor: Warfighter
Resident Evil 6

Reddit

964 votes

The War Z

Diablo III
Tortanic F2P
Mass Effect 3
Medal of Honor: Warfighter
Hyperbole Award for best trailer
No filtering

16,026 votes

Watch Dogs

Grand Theft Auto V
Dark Souls 2
The Phantom Pain
The Last Of Us

All of /v/

1,913 votes

Watch Dogs

The Phantom Pain
Grand Theft Auto V
Dark Souls 2
The Last Of Us

/v/ with voting code

674 votes

Watch Dogs

The Phantom Pain
Grand Theft Auto V
Dark Souls 2
The Last Of Us

/v/ (no voting code)

1,239 votes

Watch Dogs

Grand Theft Auto V
The Phantom Pain
Dark Souls 2
The Last Of Us

All of /v/ + all of NULL

9,205 votes

Watch Dogs

Grand Theft Auto V
Dark Souls 2
The Phantom Pain
The Last Of Us

All of /v/ + NULL with code

4,123 votes

Watch Dogs

Grand Theft Auto V
The Phantom Pain
Dark Souls 2
The Last Of Us

NULL with voting code

2,210 votes

Watch Dogs

Grand Theft Auto V
Dark Souls 2
The Phantom Pain
The Last Of Us

NULL (no voting code)

5,082 votes

Watch Dogs

Dark Souls 2
Grand Theft Auto V
The Phantom Pain
The Last Of Us

Facepunch

522 votes

Grand Theft Auto V

Watch Dogs
Bioshock Infinite
The Last Of Us
The Phantom Pain

NeoGAF

1,565 votes

Watch Dogs

The Last Of Us
The Phantom Pain
Dark Souls 2
Grand Theft Auto V

Twitter

568 votes

Watch Dogs

Bioshock Infinite
Grand Theft Auto V
The Last Of Us
The Phantom Pain

Reddit

1,046 votes

Final Fantasy XIV: A Realm Reborn

Watch Dogs
The Last Of Us
Bioshock Infinite
Grand Theft Auto V
Gamebryoken Award for glitchiest and/or most unoptimized game
No filtering

16,061 votes

The War Z

Dark Souls: Prepare to Die Edition
Diablo III
Planetside 2
Assassin's Creed III

All of /v/

1,949 votes

The War Z

Dark Souls: Prepare to Die Edition
Diablo III
Mass Effect 3
Planetside 2

/v/ with voting code

682 votes

The War Z

Dark Souls: Prepare to Die Edition
Diablo III
Mass Effect 3
Planetside 2

/v/ (no voting code)

1,267 votes

The War Z

Dark Souls: Prepare to Die Edition
Diablo III
Mass Effect 3
Planetside 2

All of /v/ + all of NULL

9,386 votes

The War Z

Dark Souls: Prepare to Die Edition
Diablo III
Planetside 2
Mass Effect 3

All of /v/ + NULL with code

4,209 votes

The War Z

Dark Souls: Prepare to Die Edition
Diablo III
Mass Effect 3
Planetside 2

NULL with voting code

2,260 votes

The War Z

Dark Souls: Prepare to Die Edition
Diablo III
Planetside 2
Mass Effect 3

NULL (no voting code)

5,177 votes

The War Z

Dark Souls: Prepare to Die Edition
Diablo III
Planetside 2
Mass Effect 3

Facepunch

559 votes

The War Z

Planetside 2
Dark Souls: Prepare to Die Edition
Diablo III
Medal of Honor: Warfighter

NeoGAF

1,457 votes

The War Z

Assassin's Creed III
Dark Souls: Prepare to Die Edition
Diablo III
Mass Effect 3

Twitter

564 votes

The War Z

Dark Souls: Prepare to Die Edition
Diablo III
Assassin's Creed III
Medal of Honor: Warfighter

Reddit

861 votes

The War Z

Planetside 2
Dark Souls: Prepare to Die Edition
Diablo III
Medal of Honor: Warfighter
/v/irgin Award for best new IP
No filtering

16,785 votes

Hotline Miami

Dishonored
FTL: Faster Than Light
Sleeping Dogs
Dragon's Dogma

All of /v/

2,047 votes

Hotline Miami

Dragon's Dogma
Tokyo Jungle
Sleeping Dogs
FTL: Faster Than Light

/v/ with voting code

714 votes

Hotline Miami

Dragon's Dogma
Katawa Shoujo
Tokyo Jungle
Sleeping Dogs

/v/ (no voting code)

1,333 votes

Hotline Miami

Dragon's Dogma
Tokyo Jungle
Sleeping Dogs
Dishonored

All of /v/ + all of NULL

9,828 votes

Hotline Miami

Dishonored
Dragon's Dogma
FTL: Faster Than Light
Sleeping Dogs

All of /v/ + NULL with code

4,414 votes

Hotline Miami

Dragon's Dogma
Sleeping Dogs
Tokyo Jungle
Dishonored

NULL with voting code

2,367 votes

Hotline Miami

Dragon's Dogma
Sleeping Dogs
Dishonored
FTL: Faster Than Light

NULL (no voting code)

5,414 votes

Hotline Miami

Dishonored
FTL: Faster Than Light
Sleeping Dogs
Dragon's Dogma

Facepunch

540 votes

Dishonored

Hotline Miami
Sleeping Dogs
FTL: Faster Than Light
Dragon's Dogma

NeoGAF

1,641 votes

Dishonored

Hotline Miami
Sleeping Dogs
FTL: Faster Than Light
Tokyo Jungle

Twitter

631 votes

Dishonored

Hotline Miami
FTL: Faster Than Light
Sleeping Dogs
Tokyo Jungle

Reddit

841 votes

Dishonored

FTL: Faster Than Light
Hotline Miami
Sleeping Dogs
Mark of the NInja
Kotick Award for crimes against gaming
No filtering

18,438 votes

Tropes vs Women in Video Games

EA + Bioware
Dewritogate
Actiblizzard
Tameem

All of /v/

2,311 votes

Tropes vs Women in Video Games

EA + Bioware
Dewritogate
Actiblizzard
Tameem

/v/ with voting code

777 votes

Tropes vs Women in Video Games

EA + Bioware
Dewritogate
Actiblizzard
Tameem

/v/ (no voting code)

1,534 votes

Tropes vs Women in Video Games

EA + Bioware
Dewritogate
Actiblizzard
Tameem

All of /v/ + all of NULL

10,916 votes

Tropes vs Women in Video Games

EA + Bioware
Dewritogate
Actiblizzard
Tameem

All of /v/ + NULL with code

4,895 votes

Tropes vs Women in Video Games

EA + Bioware
Dewritogate
Actiblizzard
Tameem

NULL with voting code

2,584 votes

Tropes vs Women in Video Games

EA + Bioware
Dewritogate
Actiblizzard
Tameem

NULL (no voting code)

6,021 votes

Tropes vs Women in Video Games

EA + Bioware
Dewritogate
Actiblizzard
Tameem

Facepunch

603 votes

EA + Bioware

Dewritogate
Actiblizzard
Tropes vs Women in Video Games
Spike VGAs

NeoGAF

1,795 votes

Dewritogate

EA + Bioware
Tropes vs Women in Video Games
Actiblizzard
Capcom

Twitter

620 votes

Dewritogate

Actiblizzard
EA + Bioware
Capcom
Tropes vs Women in Video Games

Reddit

897 votes

EA + Bioware

Tropes vs Women in Video Games
Actiblizzard
Dewritogate
Spike VGAs
Kong Award for best soundtrack
No filtering

14,967 votes

Hotline Miami

Journey
Rhythm Heaven Fever
Katawa Shoujo
Max Payne 3

All of /v/

1,837 votes

Hotline Miami

Rhythm Heaven Fever
Journey
Katawa Shoujo
Max Payne 3

/v/ with voting code

650 votes

Hotline Miami

Rhythm Heaven Fever
Katawa Shoujo
Journey
Max Payne 3

/v/ (no voting code)

1,187 votes

Hotline Miami

Rhythm Heaven Fever
Journey
Katawa Shoujo
Max Payne 3

All of /v/ + all of NULL

8,811 votes

Hotline Miami

Journey
Rhythm Heaven Fever
Katawa Shoujo
Max Payne 3

All of /v/ + NULL with code

3,974 votes

Hotline Miami

Rhythm Heaven Fever
Journey
Katawa Shoujo
Max Payne 3

NULL with voting code

2,137 votes

Hotline Miami

Journey
Rhythm Heaven Fever
Katawa Shoujo
Max Payne 3

NULL (no voting code)

4,837 votes

Hotline Miami

Journey
Rhythm Heaven Fever
Katawa Shoujo
Max Payne 3

Facepunch

475 votes

Hotline Miami

Max Payne 3
Journey
Rhythm Heaven Fever
Torchlight II

NeoGAF

1,511 votes

Hotline Miami

Journey
Rhythm Heaven Fever
Kid Icarus: Uprising
Gravity Rush

Twitter

549 votes

Hotline Miami

Journey
Rhythm Heaven Fever
Dustforce
Max Payne 3

Reddit

669 votes

Hotline Miami

Journey
Dustforce
Max Payne 3
Torchlight II
STYLISH! Award for best visual aesthetics
No filtering

15,759 votes

Journey

Dishonored
Hotline Miami
The Walking Dead
Far Cry 3

All of /v/

1,918 votes

Journey

Skullgirls
Hotline Miami
The Walking Dead
Dishonored

/v/ with voting code

672 votes

Journey

Skullgirls
Hotline Miami
Dishonored
The Walking Dead

/v/ (no voting code)

1,246 votes

Journey

Skullgirls
The Walking Dead
Hotline Miami
Dishonored

All of /v/ + all of NULL

9,204 votes

Journey

Skullgirls
Hotline Miami
Dishonored
The Walking Dead

All of /v/ + NULL with code

4,142 votes

Journey

Skullgirls
Hotline Miami
Dishonored
The Walking Dead

NULL with voting code

2,224 votes

Journey

Hotline Miami
Skullgirls
Dishonored
The Walking Dead

NULL (no voting code)

5,062 votes

Journey

Dishonored
Hotline Miami
Skullgirls
The Walking Dead

Facepunch

528 votes

Dishonored

Far Cry 3
Journey
Dear Esther
Borderlands 2

NeoGAF

1,532 votes

Journey

Hotline Miami
Dishonored
Borderlands 2
The Walking Dead

Twitter

608 votes

Journey

Hotline Miami
Dishonored
The Walking Dead
Borderlands 2

Reddit

784 votes

Journey

Dishonored
Far Cry 3
Borderlands 2
Hotline Miami
IP Twist Award for best new implementation of an old franchise
No filtering

15,479 votes

Black Mesa

XCOM: Enemy Unknown
Spec Ops: The Line
Kid Icarus: Uprising
Persona 4 Arena

All of /v/

1,904 votes

Black Mesa

XCOM: Enemy Unknown
Spec Ops: The Line
Kid Icarus: Uprising
Persona 4 Arena

/v/ with voting code

674 votes

Black Mesa

XCOM: Enemy Unknown
Spec Ops: The Line
Kid Icarus: Uprising
Persona 4 Arena

/v/ (no voting code)

1,230 votes

Black Mesa

XCOM: Enemy Unknown
Spec Ops: The Line
Kid Icarus: Uprising
Persona 4 Arena

All of /v/ + all of NULL

9,051 votes

Black Mesa

XCOM: Enemy Unknown
Spec Ops: The Line
Kid Icarus: Uprising
Persona 4 Arena

All of /v/ + NULL with code

4,085 votes

Black Mesa

XCOM: Enemy Unknown
Spec Ops: The Line
Kid Icarus: Uprising
Persona 4 Arena

NULL with voting code

2,181 votes

Black Mesa

XCOM: Enemy Unknown
Spec Ops: The Line
Kid Icarus: Uprising
Persona 4 Arena

NULL (no voting code)

4,966 votes

Black Mesa

XCOM: Enemy Unknown
Spec Ops: The Line
Persona 4 Arena
Kid Icarus: Uprising

Facepunch

517 votes

Black Mesa

XCOM: Enemy Unknown
Spec Ops: The Line
SSX
Persona 4 Arena

NeoGAF

1,554 votes

XCOM: Enemy Unknown

Kid Icarus: Uprising
Spec Ops: The Line
Black Mesa
Persona 4 Arena

Twitter

534 votes

XCOM: Enemy Unknown

Black Mesa
Spec Ops: The Line
Persona 4 Arena
Kid Icarus: Uprising

Reddit

729 votes

Black Mesa

XCOM: Enemy Unknown
Spec Ops: The Line
Persona 4 Arena
Kid Icarus: Uprising
Stop It Award for raping a dead horse
No filtering

18,191 votes

Call of Duty: Black Ops II

Medal of Honor: Warfighter
New Super Mario Bros. 2
Halo 4
Assassin's Creed III

All of /v/

2,244 votes

Call of Duty: Black Ops II

Medal of Honor: Warfighter
New Super Mario Bros. 2
Halo 4
Assassin's Creed III

/v/ with voting code

764 votes

Call of Duty: Black Ops II

New Super Mario Bros. 2
Halo 4
Medal of Honor: Warfighter
Assassin's Creed III

/v/ (no voting code)

1,480 votes

Call of Duty: Black Ops II

Medal of Honor: Warfighter
New Super Mario Bros. 2
Halo 4
Assassin's Creed III

All of /v/ + all of NULL

10,743 votes

Call of Duty: Black Ops II

Medal of Honor: Warfighter
New Super Mario Bros. 2
Halo 4
Assassin's Creed III

All of /v/ + NULL with code

4,780 votes

Call of Duty: Black Ops II

New Super Mario Bros. 2
Medal of Honor: Warfighter
Halo 4
Assassin's Creed III

NULL with voting code

2,536 votes

Call of Duty: Black Ops II

New Super Mario Bros. 2
Halo 4
Medal of Honor: Warfighter
Assassin's Creed III

NULL (no voting code)

5,963 votes

Call of Duty: Black Ops II

Medal of Honor: Warfighter
New Super Mario Bros. 2
Halo 4
Assassin's Creed III

Facepunch

597 votes

Call of Duty: Black Ops II

Medal of Honor: Warfighter
New Super Mario Bros. 2
Halo 4
Assassin's Creed III

NeoGAF

1,683 votes

Call of Duty: Black Ops II

New Super Mario Bros. 2
Medal of Honor: Warfighter
Assassin's Creed III
Halo 4

Twitter

664 votes

Call of Duty: Black Ops II

Medal of Honor: Warfighter
New Super Mario Bros. 2
Halo 4
Assassin's Creed III

Reddit

931 votes

Call of Duty: Black Ops II

Medal of Honor: Warfighter
New Super Mario Bros. 2
Halo 4
Assassin's Creed III
Sanic Award for fastest game
No filtering

15,388 votes

Tribes: Ascend

Hotline Miami
Sonic & All-Stars Racing Transformed
FTL: Faster Than Light
Sonic the Hedgehog 4: Episode II

All of /v/

1,891 votes

Tribes: Ascend

Sonic & All-Stars Racing Transformed
Hotline Miami
FTL: Faster Than Light
Sonic the Hedgehog 4: Episode II

/v/ with voting code

659 votes

Tribes: Ascend

Sonic & All-Stars Racing Transformed
Hotline Miami
FTL: Faster Than Light
Sonic the Hedgehog 4: Episode II

/v/ (no voting code)

1,232 votes

Tribes: Ascend

Sonic & All-Stars Racing Transformed
Hotline Miami
FTL: Faster Than Light
Sonic the Hedgehog 4: Episode II

All of /v/ + all of NULL

8,987 votes

Tribes: Ascend

Hotline Miami
Sonic & All-Stars Racing Transformed
FTL: Faster Than Light
Sonic the Hedgehog 4: Episode II

All of /v/ + NULL with code

4,044 votes

Tribes: Ascend

Sonic & All-Stars Racing Transformed
Hotline Miami
FTL: Faster Than Light
Sonic the Hedgehog 4: Episode II

NULL with voting code

2,153 votes

Tribes: Ascend

Hotline Miami
Sonic & All-Stars Racing Transformed
FTL: Faster Than Light
Sonic the Hedgehog 4: Episode II

NULL (no voting code)

4,943 votes

Tribes: Ascend

Hotline Miami
Sonic & All-Stars Racing Transformed
FTL: Faster Than Light
Sonic the Hedgehog 4: Episode II

Facepunch

519 votes

Tribes: Ascend

Hotline Miami
FTL: Faster Than Light
Sonic & All-Stars Racing Transformed
Sonic the Hedgehog 4: Episode II

NeoGAF

1,361 votes

Hotline Miami

Tribes: Ascend
FTL: Faster Than Light
Sonic & All-Stars Racing Transformed
Kid Icarus: Uprising

Twitter

514 votes

Hotline Miami

Tribes: Ascend
FTL: Faster Than Light
Sonic & All-Stars Racing Transformed
Sonic the Hedgehog 4: Episode II

Reddit

1,068 votes

Tribes: Ascend

Hotline Miami
FTL: Faster Than Light
Dustforce
Need for Speed: Most Wanted
FUCK YOU Award for worst character
No filtering

16,655 votes

Diana Allers

Star Child
Shepard
Claptrap
Connor

All of /v/

2,073 votes

Diana Allers

Star Child
Shepard
Claptrap
Tiny Tina

/v/ with voting code

723 votes

Diana Allers

Star Child
Claptrap
Tiny Tina
Shepard

/v/ (no voting code)

1,350 votes

Diana Allers

Star Child
Shepard
Claptrap
Tiny Tina

All of /v/ + all of NULL

9,848 votes

Diana Allers

Star Child
Shepard
Claptrap
Tiny Tina

All of /v/ + NULL with code

4,395 votes

Diana Allers

Star Child
Claptrap
Shepard
Tiny Tina

NULL with voting code

2,322 votes

Diana Allers

Star Child
Claptrap
Shepard
Tiny Tina

NULL (no voting code)

5,453 votes

Diana Allers

Star Child
Shepard
Claptrap
Ben

Facepunch

529 votes

Star Child

Diana Allers
Claptrap
Tiny Tina
Shepard

NeoGAF

1,566 votes

Diana Allers

Star Child
Shepard
Ben
Connor

Twitter

618 votes

Star Child

Diana Allers
Ben
Connor
Claptrap

Reddit

781 votes

Diana Allers

Star Child
Connor
Ben
Claptrap
Reddit Award for most hated fanbase
No filtering

20,527 votes

My Little Pony: Friendship is Magic

reddit
Call of Duty
Biodrones
League of Legends

All of /v/

2,609 votes

My Little Pony: Friendship is Magic

reddit
Biodrones
Call of Duty
League of Legends

/v/ with voting code

820 votes

My Little Pony: Friendship is Magic

reddit
Biodrones
League of Legends
Call of Duty

/v/ (no voting code)

1,789 votes

My Little Pony: Friendship is Magic

reddit
Biodrones
Call of Duty
League of Legends

All of /v/ + all of NULL

12,469 votes

My Little Pony: Friendship is Magic

reddit
Biodrones
Call of Duty
League of Legends

All of /v/ + NULL with code

5,298 votes

My Little Pony: Friendship is Magic

reddit
Biodrones
Call of Duty
League of Legends

NULL with voting code

2,689 votes

My Little Pony: Friendship is Magic

reddit
Biodrones
Call of Duty
League of Legends

NULL (no voting code)

7,171 votes

My Little Pony: Friendship is Magic

reddit
Call of Duty
Biodrones
League of Legends

Facepunch

653 votes

My Little Pony: Friendship is Magic

reddit
Call of Duty
Minecraft
League of Legends

NeoGAF

1,731 votes

My Little Pony: Friendship is Magic

reddit
Call of Duty
Biodrones
League of Legends

Twitter

734 votes

My Little Pony: Friendship is Magic

Call of Duty
League of Legends
reddit
Minecraft

Reddit

976 votes

My Little Pony: Friendship is Magic

Call of Duty
League of Legends
reddit
Minecraft
Slender Award for worst vidya related Youtube personality(ies)
No filtering

19,032 votes

PewDiePie

iJustine
Tobuscus
DSPGaming
Yogscast

All of /v/

2,296 votes

PewDiePie

iJustine
Tobuscus
DSPGaming
Yogscast

/v/ with voting code

754 votes

PewDiePie

iJustine
Tobuscus
DSPGaming
Yogscast

/v/ (no voting code)

1,542 votes

PewDiePie

iJustine
Tobuscus
DSPGaming
Yogscast

All of /v/ + all of NULL

10,828 votes

PewDiePie

iJustine
Tobuscus
DSPGaming
Yogscast

All of /v/ + NULL with code

4,772 votes

PewDiePie

iJustine
Tobuscus
DSPGaming
Yogscast

NULL with voting code

2,476 votes

PewDiePie

iJustine
Tobuscus
DSPGaming
Yogscast

NULL (no voting code)

6,056 votes

PewDiePie

iJustine
Tobuscus
Yogscast
DSPGaming

Facepunch

669 votes

PewDiePie

iJustine
Tobuscus
Yogscast
DSPGaming

NeoGAF

1,453 votes

iJustine

PewDiePie
Tobuscus
Yogscast
DSPGaming

Twitter

1,527 votes

PewDiePie

iJustine
Tobuscus
DSPGaming
Game Grumps

Reddit

860 votes

PewDiePie

iJustine
Tobuscus
Yogscast
DSPGaming
Meat & Fish Award for most pretentious indie game
No filtering

16,647 votes

Fez

Curiosity
Dear Esther
Slender
Journey

All of /v/

2,104 votes

Fez

Dear Esther
Curiosity
Slender
Journey

/v/ with voting code

732 votes

Fez

Dear Esther
Curiosity
Slender
Journey

/v/ (no voting code)

1,372 votes

Fez

Dear Esther
Slender
Curiosity
Journey

All of /v/ + all of NULL

9,818 votes

Fez

Dear Esther
Curiosity
Slender
Journey

All of /v/ + NULL with code

4,456 votes

Fez

Dear Esther
Curiosity
Slender
Journey

NULL with voting code

2,352 votes

Fez

Dear Esther
Curiosity
Slender
Journey

NULL (no voting code)

5,362 votes

Fez

Dear Esther
Slender
Curiosity
Journey

Facepunch

580 votes

Fez

Curiosity
Slender
Dear Esther
Journey

NeoGAF

1,570 votes

Fez

Curiosity
Dear Esther
Journey
Slender

Twitter

651 votes

Curiosity

Dear Esther
Fez
Slender
Journey

Reddit

789 votes

Curiosity

Dear Esther
Fez
Slender
Journey
lods of emone award for biggest cashgrab
No filtering

18,217 votes

Tropes vs Women in Video Games

The War Z
Call of Duty: Black Ops II
Diablo III
Ouya

All of /v/

2,250 votes

Tropes vs Women in Video Games

The War Z
Ouya
Call of Duty: Black Ops II
Diablo III

/v/ with voting code

761 votes

Tropes vs Women in Video Games

The War Z
Ouya
Diablo III
Call of Duty: Black Ops II

/v/ (no voting code)

1,489 votes

Tropes vs Women in Video Games

The War Z
Ouya
Call of Duty: Black Ops II
Diablo III

All of /v/ + all of NULL

10,742 votes

Tropes vs Women in Video Games

The War Z
Call of Duty: Black Ops II
Diablo III
Ouya

All of /v/ + NULL with code

4,790 votes

Tropes vs Women in Video Games

The War Z
Ouya
Call of Duty: Black Ops II
Diablo III

NULL with voting code

2,540 votes

Tropes vs Women in Video Games

The War Z
Ouya
Call of Duty: Black Ops II
Diablo III

NULL (no voting code)

5,952 votes

Tropes vs Women in Video Games

The War Z
Call of Duty: Black Ops II
Diablo III
Ouya

Facepunch

616 votes

The War Z

Tropes vs Women in Video Games
Call of Duty: Black Ops II
Mass Effect 3
Diablo III

NeoGAF

1,694 votes

The War Z

Tropes vs Women in Video Games
Call of Duty: Black Ops II
Diablo III
Mass Effect 3

Twitter

654 votes

The War Z

Call of Duty: Black Ops II
Diablo III
Tropes vs Women in Video Games
Mass Effect 3

Reddit

970 votes

The War Z

Tropes vs Women in Video Games
Diablo III
Call of Duty: Black Ops II
Ouya
Malignance Award for most detrimental force to vidya
No filtering

17,845 votes

Corrupt Journalism

Low Standards
DLC
Corporations
Misguided Advocacy

All of /v/

2,220 votes

Corrupt Journalism

Low Standards
DLC
Misguided Advocacy
Corporations

/v/ with voting code

757 votes

Corrupt Journalism

Low Standards
DLC
Misguided Advocacy
Corporations

/v/ (no voting code)

1,463 votes

Corrupt Journalism

Low Standards
DLC
Misguided Advocacy
Corporations

All of /v/ + all of NULL

10,577 votes

Corrupt Journalism

Low Standards
DLC
Misguided Advocacy
Corporations

All of /v/ + NULL with code

4,736 votes

Corrupt Journalism

Low Standards
DLC
Misguided Advocacy
Corporations

NULL with voting code

2,516 votes

Corrupt Journalism

Low Standards
DLC
Misguided Advocacy
Corporations

NULL (no voting code)

5,841 votes

Corrupt Journalism

Low Standards
DLC
Corporations
Misguided Advocacy

Facepunch

590 votes

Corrupt Journalism

Low Standards
DLC
Corporations
Misguided Advocacy

NeoGAF

1,697 votes

Corrupt Journalism

DLC
Low Standards
Corporations
Misguided Advocacy

Twitter

602 votes

Corrupt Journalism

Low Standards
DLC
Corporations
Misguided Advocacy

Reddit

883 votes

Corrupt Journalism

Low Standards
DLC
Corporations
Misguided Advocacy
Aerith Dies Award for biggest feels
No filtering

16,761 votes

The Walking Dead

Katawa Shoujo
Spec Ops: The Line
Journey
XCOM: Enemy Unknown

All of /v/

2,099 votes

The Walking Dead

Katawa Shoujo
Spec Ops: The Line
Journey
XCOM: Enemy Unknown

/v/ with voting code

728 votes

The Walking Dead

Katawa Shoujo
Spec Ops: The Line
Journey
XCOM: Enemy Unknown

/v/ (no voting code)

1,371 votes

The Walking Dead

Katawa Shoujo
Spec Ops: The Line
Journey
XCOM: Enemy Unknown

All of /v/ + all of NULL

9,930 votes

The Walking Dead

Katawa Shoujo
Spec Ops: The Line
Journey
XCOM: Enemy Unknown

All of /v/ + NULL with code

4,417 votes

The Walking Dead

Katawa Shoujo
Spec Ops: The Line
Journey
XCOM: Enemy Unknown

NULL with voting code

2,318 votes

The Walking Dead

Katawa Shoujo
Spec Ops: The Line
Journey
XCOM: Enemy Unknown

NULL (no voting code)

5,513 votes

The Walking Dead

Katawa Shoujo
Spec Ops: The Line
Journey
Dear Esther

Facepunch

547 votes

The Walking Dead

Spec Ops: The Line
Journey
Katawa Shoujo
Dear Esther

NeoGAF

1,535 votes

The Walking Dead

Journey
Spec Ops: The Line
Katawa Shoujo
XCOM: Enemy Unknown

Twitter

635 votes

The Walking Dead

Journey
Spec Ops: The Line
Mass Effect 3
Katawa Shoujo

Reddit

800 votes

The Walking Dead

Spec Ops: The Line
Journey
Katawa Shoujo
Mass Effect 3
Nighthood Award for the worst part of the 2011 /v/GAs
No filtering

16,415 votes

Reddit Influence

EPIC MAYMAYS
Portal 2 and Bastion
Valve Dicksucking
Unfunny Skits

All of /v/

2,185 votes

Reddit Influence

EPIC MAYMAYS
Portal 2 and Bastion
Valve Dicksucking
Unfunny Skits

/v/ with voting code

757 votes

Reddit Influence

EPIC MAYMAYS
Portal 2 and Bastion
Valve Dicksucking
The Best Gamers

/v/ (no voting code)

1,428 votes

Reddit Influence

EPIC MAYMAYS
Portal 2 and Bastion
Unfunny Skits
Valve Dicksucking

All of /v/ + all of NULL

10,151 votes

Reddit Influence

EPIC MAYMAYS
Portal 2 and Bastion
Valve Dicksucking
Unfunny Skits

All of /v/ + NULL with code

4,670 votes

Reddit Influence

EPIC MAYMAYS
Portal 2 and Bastion
Valve Dicksucking
Unfunny Skits

NULL with voting code

2,485 votes

Reddit Influence

EPIC MAYMAYS
Portal 2 and Bastion
Valve Dicksucking
Unfunny Skits

NULL (no voting code)

5,481 votes

Reddit Influence

EPIC MAYMAYS
Portal 2 and Bastion
Unfunny Skits
Valve Dicksucking

Facepunch

519 votes

Reddit Influence

EPIC MAYMAYS
Portal 2 and Bastion
Unfunny Skits
Valve Dicksucking

NeoGAF

1,411 votes

Reddit Influence

Valve Dicksucking
EPIC MAYMAYS
Portal 2 and Bastion
Unfunny Skits

Twitter

466 votes

Reddit Influence

EPIC MAYMAYS
Unfunny Skits
Valve Dicksucking
The Best Gamers

Reddit

734 votes

Reddit Influence

EPIC MAYMAYS
Valve Dicksucking
Portal 2 and Bastion
Unfunny Skits